Around the Town
Everything is close at hand and most of if within bicycle distance. There are miles of sidewalks to ride the bikes provided, even to the beach. The new Publix and Winn Dixie markets provide all the supplies you need. All the well-known marine supply houses have stores on the Island. Even the new Home Depot carries marine gear and supplies. There is an ample supply of tourist shopping too on Marathon and nearby Islamorada. Plenty of tee-shirts, coconuts and local island art and crafts can be found at shops all along the islands.
Local Tropical Diversions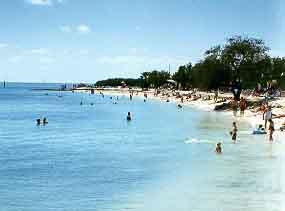 If boating and diving are not your thing there is still plenty to do around the Middle Keys. Just a mile or so away from the house is Sombrero Beach. A nice white sand public beach (free, unlike some in the keys) with Bar-B-Que pits and facilities. This beach can be easily reached by car or by bicycle from the house.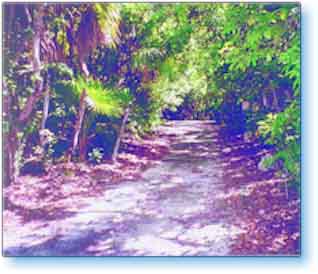 Crane Point Hammock is an interesting mix of history, geology and marine science with nature trails, museums and marine touch tanks. It makes for a fun and educational tour.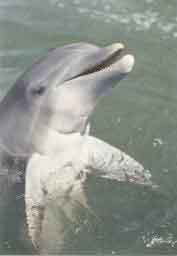 The Dolphin Research Center has daily tours and educational shows on dolphins and marine life available just nearby on Grassy Key. And don't forget the Key Doer refuge on Big Pine Key.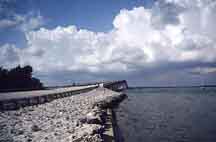 A trip to Pigeon Island makes for an interesting ride over the Old Seven Mile Railroad bridge. This attraction is a historical tour of the one time railroad construction base. Many beautiful homes have been restored on this oasis island in the middle of the seven mile bridge. Art and science meet at this historical location.
Of course, some of the best attractions are right at home, just relaxing near the waterfront in the hammock. The island of Marathon his plenty of places to ride your bike to, and plenty of restaurants and shopping near by to peddle over to in addition to the beach.
Nearby Attractions
Key West and all of its night life and attractions are only a quick drive west. Less than an hour away, Key West, Mark Twain history, Mel Fisher's Treasure and the Conch Train await. You can also drive east to Islamorada and Key Largo for come great shopping at World Sportsman, Treasure Village, Rain Barrel, and many more.
There is plenty of fine dining to suit all tastes and budgets and plenty of shopping and entertainment. You can eat out, take in, or prepare your own meals and save plenty. Many restaurants also deliver to our 500 Ocean home, or you may find it is more fun to prepare your meals at home, eat in the quiet breeze of the Lanai, and look out over the water.
For More Information and Reservations Contact:
Chuck & Lisa Couture
5401 Citrus Avenue
Fort Pierce, Fl 34982


Leave us a message at:
Phone (772) 595-9995
Cellular (772) 370-3334
Toll Free (866) 500-0660