Down by the Water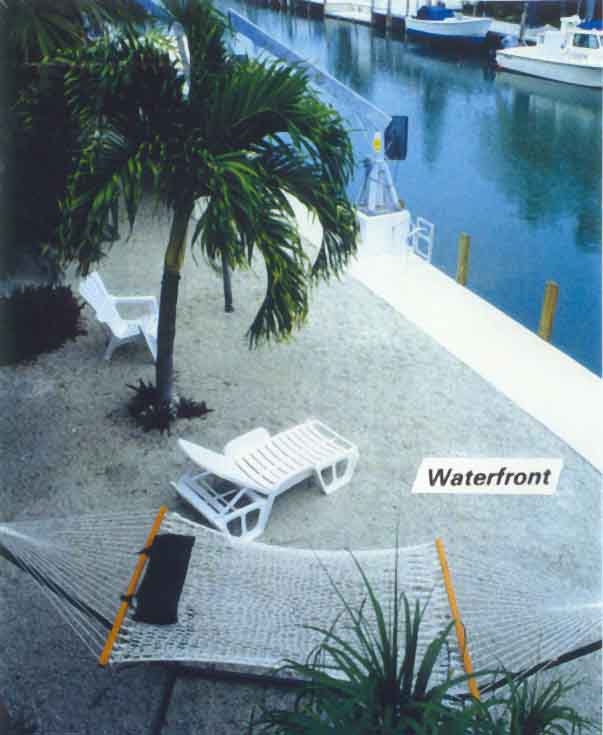 The entire yard below the home is covered in very small white pea rock. This gives an appearance almost like a white beach out near the dock. The tropical grounds are dotted with coconut palms, sago palms, areca palms, umbrella trees and bananas. You are welcome to all the ripe coconuts and bananas you can eat. There are two large loungers and two beach chairs for relaxing and catching some rays. In addition there is an extra-large rope hammock to relax in and snooze the day away. Two brand new wide-tire mountain bikes are provided for touring the island and beaches free of charge.
For enjoyment, there is a nice full-sized gas bar-b-que grill provided with warming racks and wooden shelves. Of course, there is a set of he-man bar-b-que tools, and fish grilling plates to go with it
You will find the neighborhood quiet and relaxing. The homes around 500 OCEAN are occupied with friendly year round residents. The nearby retirement mobile home park is quiet and peaceful. The noisiest neighbor is "Whitey" the large snow-white egret who has adopted the waterway as his private kingdom. Whitey frequently squawks to attract people to throw him a bait fish or two. The background sounds are filled with wind chimes, parrots and the "Who-Who-who" sounds of the Florida Key's ring-necked turtle doves.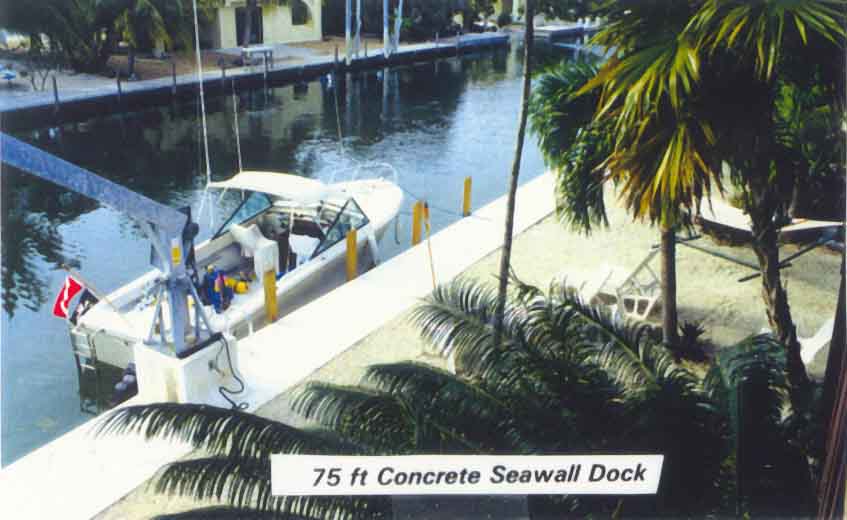 Just below the home on the first floor is a spacious 400 square foot locked storage room and two carports to store your vehicle and equipment. This large storeroom is only a few feet from the dock making secure storage of your fishing and scuba gear a snap. No need to haul any wet and heavy gear upstairs with the secure storage downstairs. There is a custom made fishing rod holder to keep your rods handy and safe downstairs by the boat. A small freezer is set up downstairs for your use to keep extra ice, frozen bait or to store your frozen booty. The freezer is trial-tested to hold a hundred lobster tails.
500 Ocean has a seventy-five foot long concrete seawall poured directly onto the island cap-rock. Two 5000 pound boat davits are there to haul a boat to dry land for storage. When guests are there, the owner's boat might be stored on land away from the dock. This will always leave the seventy-five-foot long deep water dock available for mooring. Over thirty feet of the seawall is set-up with wooden fenders for safe boat mooring. The entire length of the seawall dock cap is covered in white cool-deck concrete for tender bare feet on a hot day. A heavy duty retractable aluminum ladder is mounted to give access to the water's edge for swimming or boating. An awesome 48 inch high caliber fish cleaning table is set up of the edge of the dock. The dock is only a few hundred yards from the open ocean.
Access over the Voca Key Bight is provided by a privately maintained cut to the deep water of the Atlantic. A five foot controlled depth provides easy access to many large yachts and sailboats in the area. Our waterway itself is dredged to fifteen feet deep of our dock. This depth is probably what brings to many large fish to feed and play off our docks day and night. At the ocean end of the waterway is a vast expanse of bonefish flats for the adventure fisherman. The ocean is close enough to make Kayaks, canoes and paddle boots a viable alternative to power boating. If you do not own a boot, you can rent one at several marinas close by. A trove of vendors provide runabouts, fishing boats, Jet-Skis, and even kayaks and canoes for any length of rental. If you do bring your own boat, there are plenty of nearby ramps within three miles to safely launch your boat and bring it over to the dock.
For More Information and Reservations Contact:
Chuck & Lisa Couture
5401 Citrus Avenue
Fort Pierce, Fl 34982


Leave us a message at:
Phone (772) 595-9995
Cellular (772) 370-3334
Toll Free (866) 500-0660